The 'Everyone's Invited' movement has made school leaders and teachers all over the country question the values of the pupils we prepare for the world. It has made me enormously grateful for the culture of kindness and selflessness that permeates Solefield and the gentleness, care for others and respectfulness instilled in Solefield boys from their first day with us. Our boys are taught to show respect to all those around them and to develop their emotional intelligence in order to understand what may make others uncomfortable. They are taught about their role in society to care for and look after those around them, whether male, female, gender fluid, old or young.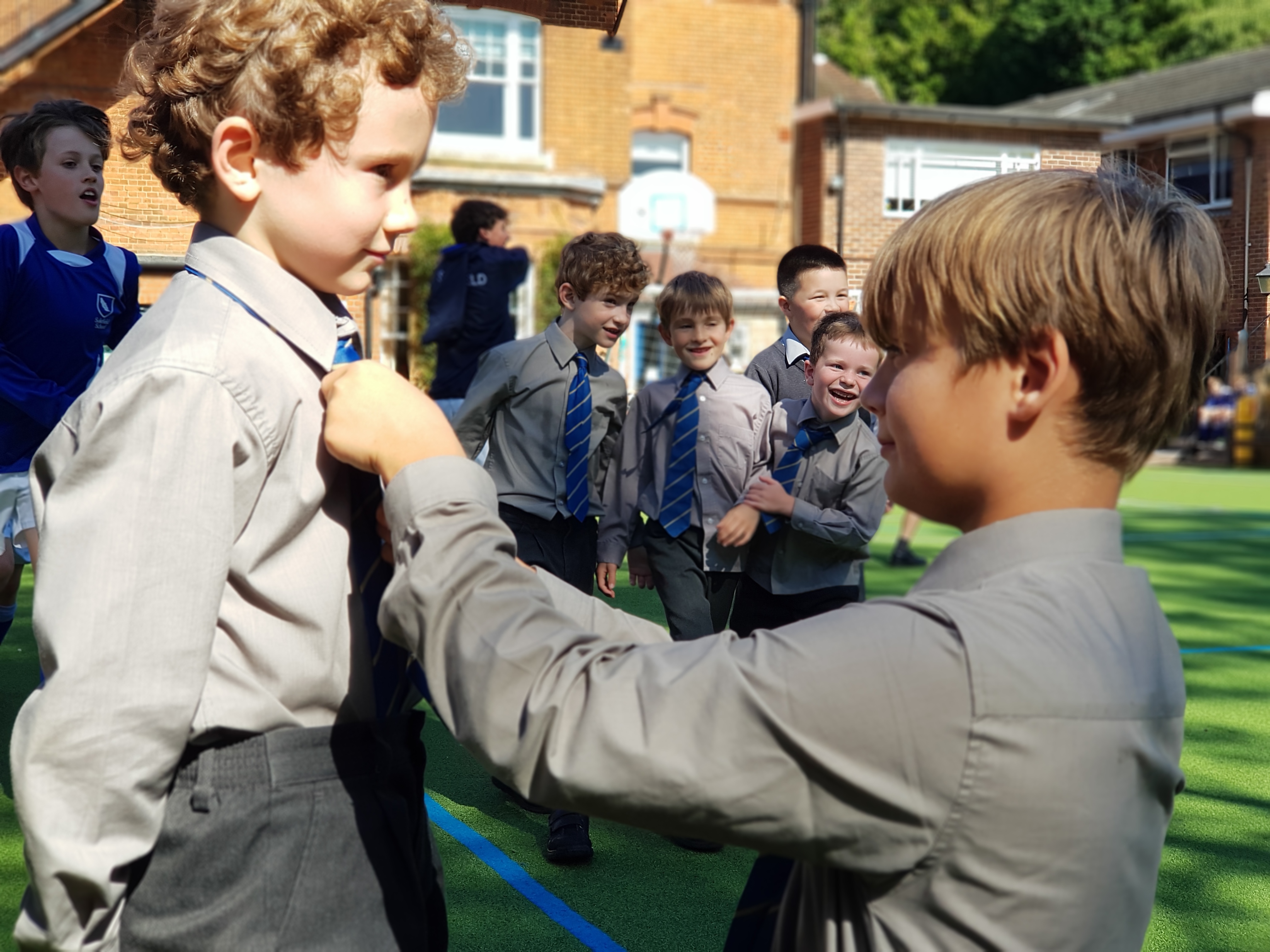 When prospective parents are shown around our school, they invariably comment on the excellent manners of Solefield boys, as well as the relaxed atmosphere of the school. Manners, courtesy and discipline are key life skills that we aim to embed in the boys at an early stage. Good habits formed at a young age become second nature as boys progress through the school, becoming invaluable to them in later life. Our boys are all encouraged to speak naturally to others, make eye contact, use a firm handshake, hold doors open and engage fully in conversation, even at the age of 4.
It's the little things
We insist on the small things; pride in our school uniform, the use of "please" and "thank you" and proper table manners. Learning to share and take turns are also vital as is the importance of listening to others and respecting their opinions. Our highly successful debating culture has helped pupils to formulate and voice their opinions whilst listening to and respecting the opinions of others.
Role-modelling and mentoring
We use older pupils as role models unashamedly. The older boys in the school are acutely aware of the influence they have on younger boys, and the responsibility that such influence brings. They lead and help in assemblies and with house meetings and run School Council and Team G as well as other clubs. They also work with younger pupils every day as their "form monitors", listening to them read or helping with their work. Many of the Year 8 boys undergo training and don armbands at breaktimes to show that younger children can go to them for help if necessary.
Solefield old boys and aspirations
Old boys often come back to visit and have delivered our "Thinking Allowed" talks for staff, parents and boys. These have ranged from Jack Cade and the Battle of Solefield, Aeroplane Wing Walking, bridges and a former pupil now studying Engineering at Cambridge gave a wonderful talk about the 1000 mph Bloodhound SSC.
Caring and devoted staff
Teachers too know that they play a huge part in modelling good behaviour to the children. At Solefield, pupils know that the teachers care about and respect each of the pupils and their colleagues; it is therefore natural and easier for pupils to feel the same in turn about their teachers and their peers. This sense of each member of our community being equally valued and treated fairly is important and underpins all that we do. We cherish the individuality of each child, face to face or in the individualised academic planning that we submit for each lesson. We are small enough as a school to really know our pupils. We encourage our boys to value others' differences in the same way.
The ratio of male to female teaching staff at Solefield is almost 50:50, with boys working with male teachers for Art and Music, as well as many other subjects and with a mix of female and male administrators in the school office, helping them to manage their day-to-day school life and dealing with first aid incidents. This number of male staff is extremely unusual in an average primary school. We are unusual as well in that we have a female Head and Deputy Head in an all boys' school. It is important for boys to understand the varied roles fulfilled by the men around them and also for them to see women in leadership positions.
Dedicated, protected pastoral time
Pupils at Solefield have pastoral contact time at the start and end of each day with caring and dedicated form teachers and they are encouraged to use this to explore and discuss their emotions. Circle time is regularly used giving each member of a class the chance to explain how they feel. Misunderstandings inevitably occur between children; teachers strive to get them to understand that good communication is crucial as we go through life and opening up and sharing how you are feeling should be normal and natural. We encourage positive talk about others and also, crucially, positive self-talk. We explain to children that your inner voice is like a computer programme that plays when your mind is both active and "idling" and we work to help boost their self-esteem and resilience. We are currently working towards the Wellbeing Award for Schools and have 3 Wellbeing Hubs, a school counsellor, talk time and a Lego Therapy Room.
Pupil voice
We have harnessed the pupil voice enormously in making Solefield a kind and gentle community. Our Kindness Awards are presented every week in assembly by the Chair of School Council with each nominee getting a clap, certificate and small prize. Every week, these are given to boys ranging from Reception to Year 8, nominated by other pupils. Unkindness and "banter" are not tolerated at Solefield with teachers dealing swiftly yet firmly with this. Inevitably, children will push the boundaries, and on occasion get things wrong but what is important is that issues are clearly talked through and boys understand how they can learn from their experiences. Our "blue pages" enable pupils to discuss any such misdemeanours with their form teachers and parents and any sanctions are calm and restorative. Our strong house system gives an opportunity for vertical pastoral meetings and celebration of good behaviour. Our "man of the class" award every term, given for decency, honesty and reliability is much coveted.
Teamwork
This year, we have teamed up with a local girls' school and will be working with their girls for sport, Art, Music, Drama and Debating as well as sharing our unique Scholarship Pathway afternoons with them.
It would be a mistake to think that the gentleness of Solefield pupils in school translates into a lack of dynamism on the sports' pitch; this is not the case at all. In recent years, we have won a number of sporting titles, both nationally and locally including plates for rugby at Sutton Valence and for football at New Beacon, Hilden Grange and Lancing where a Solefield boy was voted player of the tournament. Our boys have represented rugby, athletics, football and cross country at South East and England level and at the Gothia World Youth Cup in Sweden. We have enjoyed national victories for our judo and basketball teams and every year boys win numerous sports' scholarships to a variety of prestigious senior schools. Solefield boys are determined and encouraged to be good sports, noble both in victory and defeat.
Golden rule
A golden rule runs through our school community; treat other people as you would like to be treated. Our pupils fully understand that this is what it is to be a "Solefield boy" and I am always very proud of the well-rounded, courteous, confident, thoroughly decent young men that move on from Solefield, ready for the next stage of their lives. They show respect and kindness to others and have learnt to protect and defend those more vulnerable than themselves. Our pupils leave us with a "clear sense of right and wrong" and they "demonstrate an excellent understanding of the importance of being kind" (ISI December 2019).

Helen McClure
Headmistress