Green Week 2022 at Solefield School was a huge success! Thank you all for your support and a special thank you to all our students who demonstrated what it really means to 'value our world'.
On Tuesday our whole school was in darkness from 2-3pm as lights in every classroom were switched off in order to conserve electricity, reduce carbon emissions and other harmful greenhouse gases. There was something really special about this collective team effort which showed our Solefield spirit.
On Wednesday we had 'No Waste Wednesday'. Our boys made a real effort to make sure they didn't waste any food at lunch time and the kitchen staff noted how much less waste there was. Even our Year 7s who were on their residential trip to Wales discussed the importance of not wasting food and other environmental issues!
One of year 6 classes took to the local area armed with rubbish bags and pickers. They were amazed that in just 45 minutes they filled 3 bin liners! Here is what some of them had to say:-
'We should do it more often!' - Kristian
'Helping to save the world is fun, however it's made me realise just how careless and inconsiderate some people can be by throwing litter on to our roads and green spaces' - Barnaby
'It's fun in both ways: being outdoors and helping to look after our environment' - Ollie
'A real team effort helping to look after our world together' - Dara
'People might think litter-picking isn't fun but when you get out there it's great!' - Aaron
'It was fun exploring whilst helping our environment' - Freddie
'We felt like we experienced a 'whole new world' - Kenziie
On Thursday we had our House Mentor Meetings where students had the opportunity to discuss how Solefield School demonstrates 'valuing our world'. Sessions finished with teachers feeling inspired by our students on how they view their place in the world. A snapshot of comments were:-
"Let's set an example by putting litter into our bins"
"We could fundraise for a greenhouse so that we can grow our own food!"
"We have a responsibility to 'fix' the earth, even thought it may not have been our generation who caused a lot of the damage"
"Turn off lights when we leave rooms – we could have light monitors to check lights are off when they aren't needed"
"Walk to school if we can"
"Reduce lamination"
"Educate each other – have lessons on environmental issues!"
A potting station was also set up outside pre-prep. A selection of seeds was given to the boys to choose from. Most boys filled a pot with compost and planted a seed. They are now tasked with looking after it and watching it grow!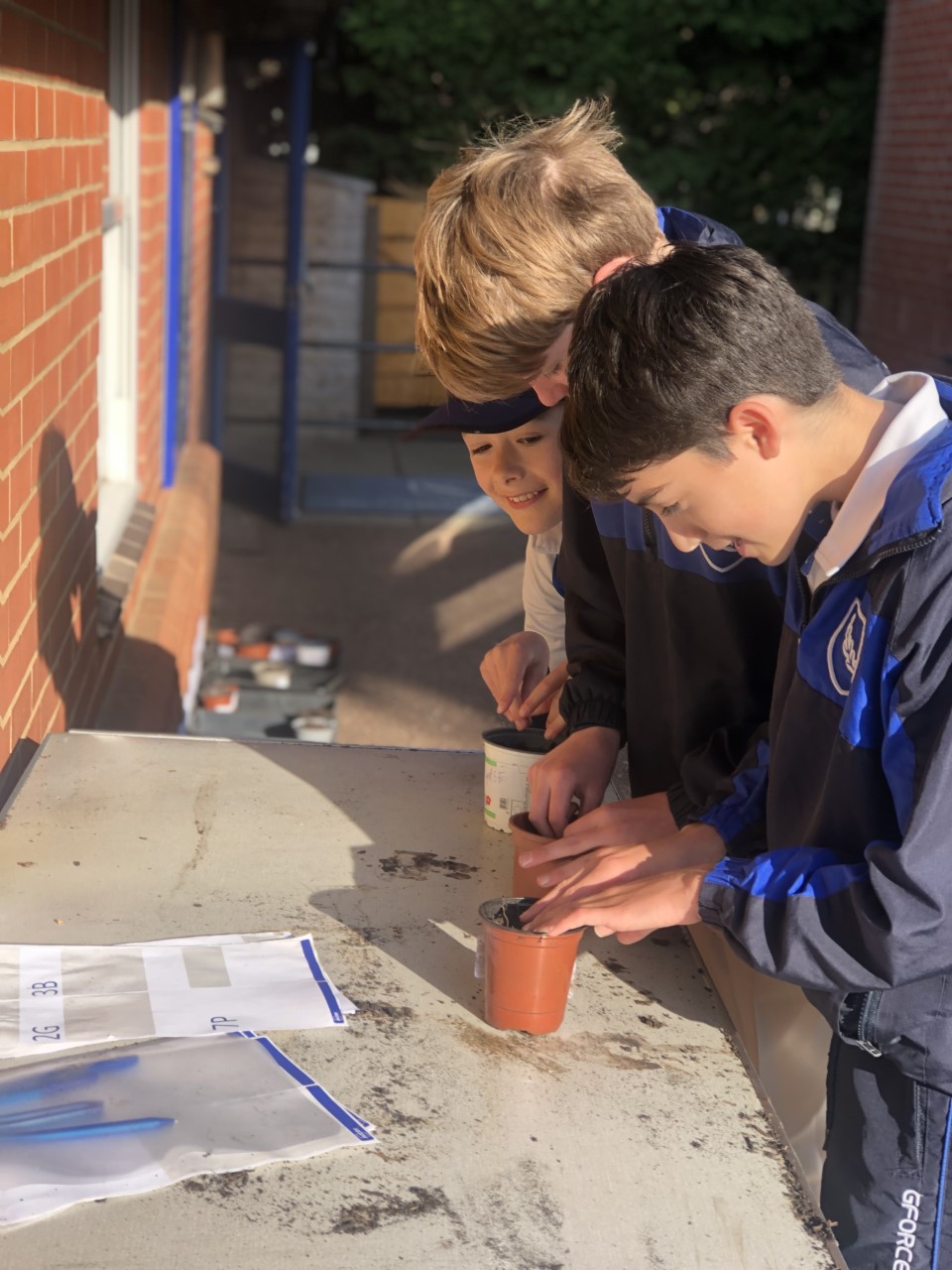 On Friday many boys and staff who live locally walked to or from school. Reception Class also visiting Coolings Garden Centre where they had a tour of the nursery area, learnt about their irrigation system and how plants are potted, sorted and labelled.
The winning design of our 'eco bag for life' will be announced in Assembly next week. Thank you to all boys who entered. A letter to parents will be sent out in due course on how to order one of these fabulous bags. Thank you to our Eco Committee for coming up with this idea on how to fundraise in support of Green Week.
We thank you all for your support in helping to make Solefield School a 'greener' place to be.