At Solefield, we now offer a variety of different camps over the year, including our Solefield Fun-Zone which is a multi-activity camp for those aged 5-11 years. Our Fun-Zone Camps will start the week of 12-16th July 2021. We will also run two weeks at the end of the Summer holidays, from the 23rd-27th August and 30th August-3rd September, respectively.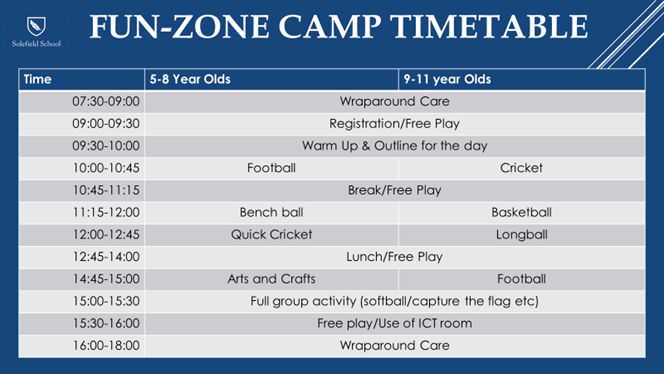 Days will run, just as our school day runs. Our main activities will start at 9am and last until 4pm. In order to support the busier members of our community further, we will be offering a Wraparound Care service. Children will be able to join us in the mornings from 7:30am until 9am and after the main activity day between 4pm-and 6pm also.
We all know that being active is the key to a fit and healthy life. Sadly, research shows that our children do not exercise as much as they should, nor as much as we would like them to. At our Solefield Holiday camps, children will have the chance to try a wide range of activities. Our aim is to encourage children to enjoy time away from screens, looked after by staff that they know, in an environment that is familiar. We try to offer as many of these activities outdoors when the weather allows, as fresh air and sunshine are further aids to happy and healthy children.
Our holiday camps are great for children who want to stay in touch with their friends in the school holidays. Children will also be able to make new friends as we will welcome non-Solefield boys and girls to our holiday camps. This will be beneficial for their social skills and confidence, as well as allowing them to learn about teamwork. Their independence and self-esteem will also grow. Our camps will follow strict behaviour guidelines. We aim to ensure that all children enjoy their time with us. If a child behaves in a way that puts any other child's safety at risk, or treats another child in an unacceptable manner, they will not be allowed to attend future days.
Many children benefit from a sense of routine. Going to school provides this focus during term-time and pupils who attend activity holiday camps further enjoy a routine in the holidays. Routines and timetables are helpful for giving children a daily structure and focus. It's also good for parents because if children are kept active in the day they will be generally better behaved at home time.
Parents often confess that they feel guilty because they are not able to entertain their children during the school holidays because of time and money restraints. A holiday camp offers the peace of mind that their children are busy, active and happy.
Parents can trust that safety and child well-being are at the heart of our camps. All activities and Wraparound Care will be overseen by members of staff and junior activity assistants from the Solefield family. Each day will be led by a member of staff from Solefield School to ensure that our children feel as comfortable as possible. All staff will have the relevant checks, and there will be always at least one first aider on site.
Our Holiday Camps at Solefield School will offer fantastic childcare for members and friends of the Solefield family during the holidays. Children (both boys and girls aged 4-13) will enjoy a wide range of activities and engage with members of our community, both in the year groups and beyond. Whether it is the perfect wind down to the end of term, or an excellent opportunity to meet new friends and ease back into school life before the start of term, children will experience a first-class service filled with excitement, care and most importantly… FUN!